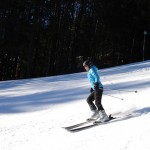 Another school vacation is upon us and a family trip to a tropical location is not on the agenda. Parents are catching themselves repeating the dreaded line they hated to hear from their own parents: "There's plenty to do around here!" But really, there is. The key may be to find a fresh approach.
Augusta, Maine, for example, is bursting with family activities. A visit to the Maine State Museum, as well as a tour of the State House and Blaine House, is a great plan for a fun-filled day. But what if that idea is met with disgruntled moans because it seems too educational?
Here's where you can mix things up a bit. Consider this: In a similar way that good Realtors, like those at Coldwell Banker Rizzo Mattson, take into account the specific needs of their clients, a parent during vacation week should have a customized plan that satisfies each child. It's really not as hard as it may sound. In keeping with the above analogy, visit some sites while wearing a real-estate hat. Do a little role-playing by pretending that someone is the Realtor and someone else the buyer. Point out the unique features of each building, redecorate the rooms, and imagine the super-large flat-screen TV on the long wall.
While the weather outside is still frightful, New Englanders are tough. As long as you're dressed appropriately, an outdoor activity is an enjoyable way to spend a vacation day. Make a plan to go ice skating at an area pond or skiing at one of the many Central Maine mountains.
Any good vacation should include some relaxing, hang-out time. Snuggling under a blanket to watch a good movie is one option, as long as everyone can agree on a title. Again, with a little forethought, there's a way to please the whole crowd.
Research films shot in Maine and see if anyone can identify the location during the movie. For instance, the exterior of the Parrish shoe factory in Jumanji was filmed at the Hurd Mill in North Berwick, Maine. The building was once a prosperous mill that made wool products. Also, the lighthouse that Forrest runs across in to reach the Atlantic Ocean the first time in Forrest Gump is the Marshall Point Lighthouse in Port Clyde, Maine. Popcorn is not optional.
Every good parent knows that a little extra free time is also an opportunity to say "clean your room". But nobody wants to hear those words on vacation. However, there is also a creative way to get this task done.
Check out the Coldwell Banker videos at: http://www.youtube.com/view_play_list?p=0620A637A8C57478.
They feature short clips that just may inspire you and your family to clear the clutter for a fresh look. And, if you need a little reward after all the organizing, Maine certainly offers plenty of shopping. After all, you deserve a little treat. You're on vacation. Remember, Spring is supposed to be right around the corner. Along with another school vacation in April.
Sources: