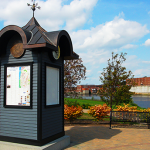 Waterville likely got its name for the waters that flow through it, The Kennebec River and The Messalonskee Stream. Originally part of neighboring town Winslow, Waterville became a city in 1802. Early on, it earned its nickname, "The Elm City," for the many elm trees that once shaded its streets.
Centrally located between Portland and Bangor, Waterville is also 20 minutes from the state capital, Augusta.
Retail and healthcare are among the city's major industries. Waterville was once home to paper and textile mills, but has seen new businesses emerge from their remnants. Keyes Fibre, "The Pie Plate Company," along the Waterville-Fairfield town line, has seen new life as Huhtamaki, a maker of disposable Chinet brand tableware. The former Hathaway shirt factory has been revived as The Hathaway Creative Center, with businesses, corporate offices, and upscale apartment units.
Local attractions include a bustling downtown, with cafes, clothing and other retail stores, salons, restaurants, a weekly Farmer's Market, and the recently renovated Waterville Public Library. The Waterville Opera House, in the center of the downtown, and has been restored to its former glory, hosting concerts, plays, and other performances.
The Colby Museum of Art on the Colby College campus has also been renovated and expanded, with the new Alfond-Lunder Family pavilion, which displays 18th and 19th century American and contemporary art. The museum features many modern and classic works, including sketches and paintings by James Whistler, Winslow Homer, and Mary Cassatt, and a wing devoted to figurative artist Alex Katz.
The Redington Museum, part of the Waterville Historical Society, displays the history of Waterville.
Railroad Square Cinema is known for its eclectic, independent films, and shows many of the movies featured in the annual Maine International Film Festival. Yankee Magazine chose it as one of "The Best 5 Cinemas in New England."
Mickey Marden, founder of the Marden's Surplus and Salvage retail chain, opened his first store in Waterville. Before he became governor of Maine, Paul LePage was general manager of the Waterville Marden's, and was later the city's mayor.
One of city's most famous natives is former U.S. Senate Democratic Majority Leader George J. Mitchell, who was President Bill Clinton's special advisor to Northern Ireland. In 1999, for his efforts in negotiating peace in that country, he received the Presidential Medal of Freedom. Mitchell later investigated the use of steroids in Major League Baseball, and was Special Envoy for Middle East Peace under President Barack Obama from 2009 to 2011.
Population:
15,722 (2010 U.S. Census)
County:
Kennebec
Recreation:
Events:
Schools:
Hospitals:
Newspapers:
City Hall:
City of Waterville, Maine One Common Street Waterville, ME 04901 Phone: (207) 680-4200 Fax: (207) 680-4239 Website: http://www.waterville-me.gov
Sources: